What is the Best Way to Get Long Lasting Beautiful Looking Lips?
.. A Client Story ..
Mel came to me initially for her brows to be redone after being unhappy with previous work from another technician. During her treatment Mel was telling me she was unhappy with her lips as with age they have lost definition and fullness. Mel had been considering having some fillers done. After telling her I could 're define the shape and create an illusion of fullness again by creating an ombre effect to fade towards the inner lip and take the colour to the outer border of the lip line to give her that youthful colour back into her lips.
Going With Permanent Lip Blush Treatment
Mel decided to have her lips done before considering any fillers which would be alot more temporary and wouldn't give that colour she wanted.
Permanent Lip Blush Procedure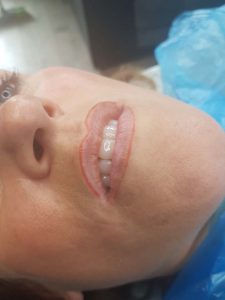 On the day of the treatment we discussed the colours, Mel brought her favourite lipstick which we managed to match pretty close! Then I drew on the lip line I'd be creating. Whilst this was only Mel's natural lip line, as her lip colour had faded so much by outlining this Mel could see the difference this treatment was going to make- all before putting any colour into the skin.
Mel's lips were assymetrical (as most people's are- don't worry ladies you're not alone) this can be much improved by evening this out still within the vermilion border.
Once Mel was happy with the drawing we started the numbing process. We left a numbing agent on the lips for 20 minutes before starting the procedure.
The treatment take a around 1hr 30 minutes after this stage. I started by creating the new improved lip border- then started to blend the colour from that into a gradual fade into to fuller part of the lip. This creates a fantastic ombre effect that is so natural when healed.
Post Permanent Lip Blush Treatment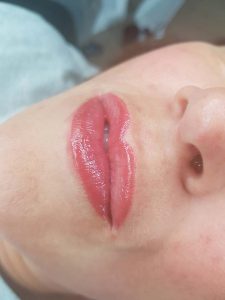 After the treatment was complete we cover the lips in a Vaseline type product to protect and soften them. Lips can feel a little "sunburnt" after the treatment so I reccomend a couple of ibuprofen and ice to help with any swelling- this is very temporary.
Mels Permanent Lip Blush Healing Process
Day 1- sunburnt feeling and swelling
Day 2 – less burny still slightly swollen
Day 3- slightly bruised feeling, not burny, swelling mostly subsided.
Day 4- lips feel very dry and still slightly tender when pressure is applied.
Day 5- scabs starting to come away.
Day 6- most scabs gone now- cupids bow still a little tender.
Day 7-14- lips just chapped but nothing lip balm isn't sorting out.
Day 14-21 – all dry chapped skin has gone, colour appears darker again. Lips healed.
Transforming the Lips with Permanent Makeup
Permanent Makeup for Brows, Liner & Lips.
After having her lips done Mel also decided to have her eyeliner done as well to give her the full face of permanent makeup treatments. Now Mel can wake up every morning with all her make already applied.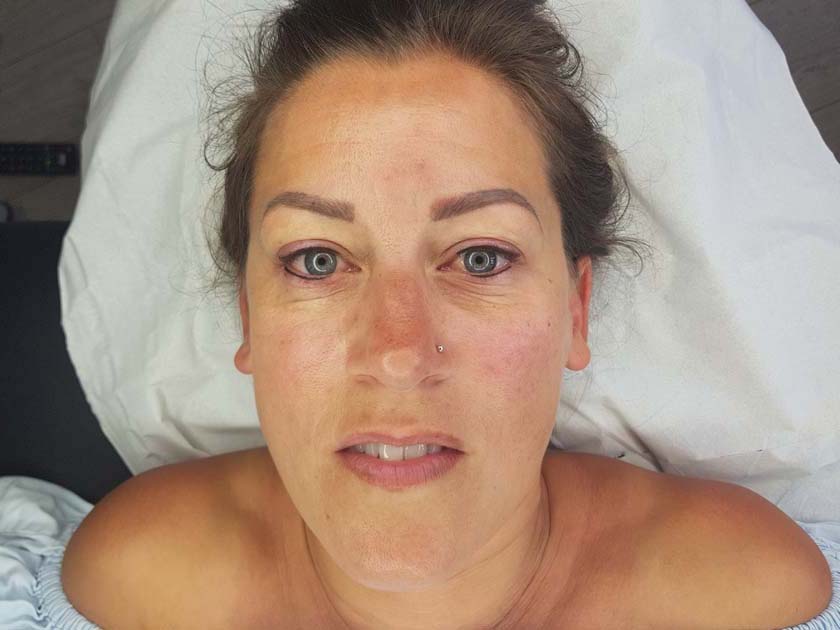 Permanent Makeup Review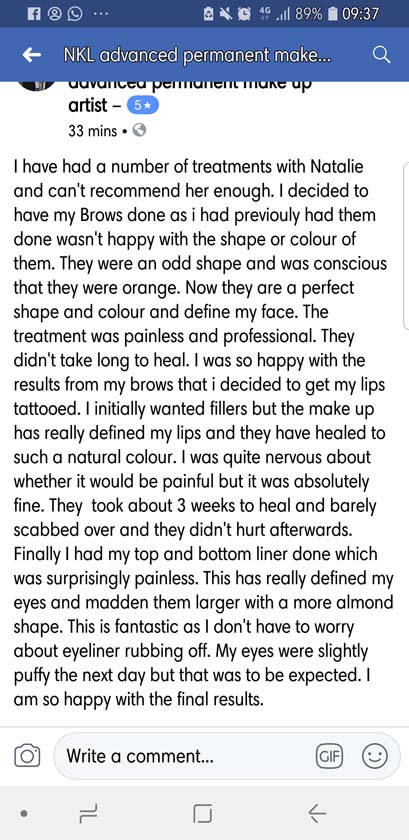 Would You Prefer Permanent Lips to Having Fillers Too?
If you have been considering having lip fillers then I would encourage you to explore a better option of permanent lip makeup. If you would like to discuss whether any of the permanent makeup procedures mentioned are suitable for you, just enter your details in the form below to book a free consultation where I can talk to you about what you are looking to achieve, analyse your hair and skin colouring, carry out a patch test, and advise what would work best for you.
Natalie x